One of my favourite things about winter is a big bowl of hot soup and some warm fluffy rolls or crusty bread slathered in butter to dip into it.  I love to experiment with different flavours and this roasted tomato and capsicum soup has a nice hint of smokiness from the roasting and freezes well so I always make a big pot and freeze portions for lunch.
3 Capsicums
3 large tomatoes
3 cups chicken stock
2 cloves garlic, crushed
salt and pepper to taste
Halve and deseed the capsicums and halve the tomatoes and place cut side down on an oven tray.  Turn your grill onto 250°C and place the tray with your tomatoes and capsicums on it under the grill.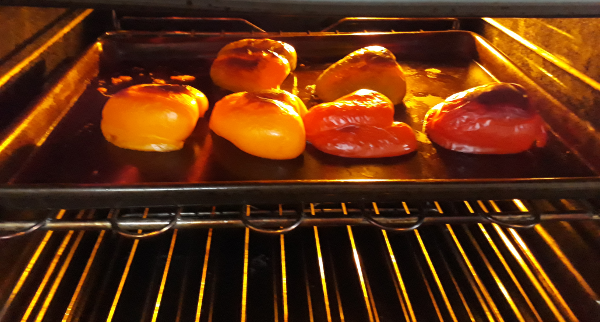 The tomatoes will be done first so as soon as the skins start to lift, remove them from the tray and put into a bowl.  Return the capsicums to the oven.  Remove and discard the skins from the tomatoes.
Once the capsicums are nice and blackened and the skins are lifting, remove them from the oven and place into a bowl.  Either cover the bowl with glad wrap or put it into a plastic bag and leave for 10 mins to cool.  This will make the skins easier to remove and you won't burn your fingers.
While your capsicums are cooling, heat the chicken stock in a large pan and add the tomatoes and garlic.  Remove and discard the skins from the capsicums and chop roughly.  Add them to the pot.
Bring to the boil and then simmer for 15 mins.  Season to taste with salt and pepper.  Use a hand blender to whiz everything together until it is nice and smooth, or you can use a normal blender to achieve the same result.  Serve steaming hot with some nice hot rolls or a chunk of nice crusty bread and lots of butter.
The rolls are made from the pizza dough base for Jamie Oliver's American Hot Pizza Pie recipe.  I made the dough, let it prove, mixed in some chopped chilli and shaped the dough into rolls and let them prove again for about another 30 mins then baked in a 180°C oven for approx 20 mins.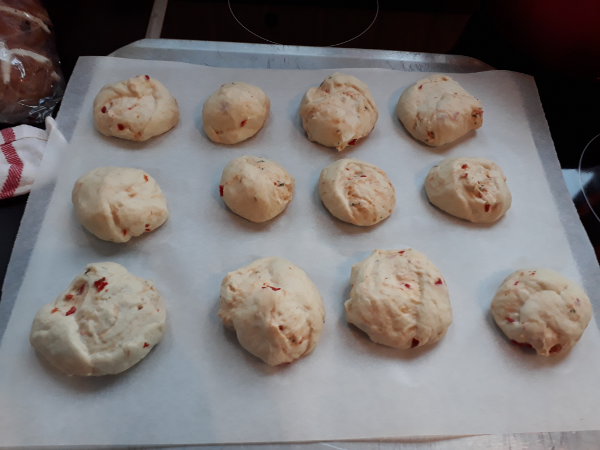 My husbands exact words when he tried one was "these are actually F@#*!N good"
Make a big batch of this soup and freeze some for later!