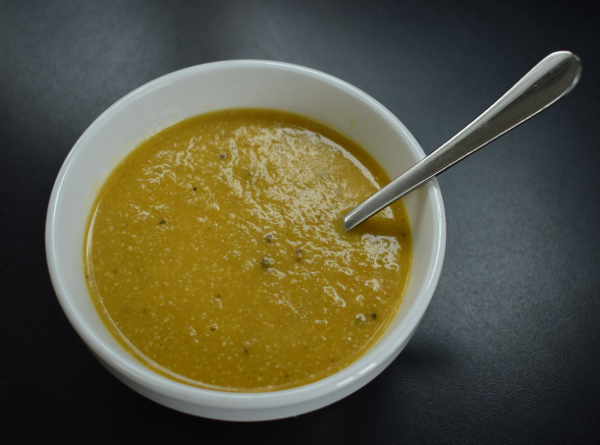 Carrying on with the winter soup experiments, this carrot one turned out really nice.  The sunflower seeds make this soup nice and creamy without all the extra calories.  This recipe also freezes superbly.
3 tbsp sunflower seeds
boiling water
3 carrots
1 onion
1 clove garlic, crushed
2 cups vegetable stock (or 2 vege stock cubes and 2 cups water)
1 cup water
salt and pepper to taste
1/4 tsp nutmeg
Cover your sunflower seeds with boiling water and leave to soak.
Dissolve the stock cubes if using in the 2 cups water
Add stock and 1 cup water to a large pan and bring to a slow simmer.  Finely chop the onion and carrots and add to the stock with the garlic.  Bring to the boil and reduce to a simmer.  Cook until the carrots are tender.  Add in the soaked sunflower seeds and cook for a further 5 mins.  Blitz with a hand blender or in blender until nice and smooth.
Add the nutmeg and season to taste with salt and pepper.  Serve with some nice bread or hot rolls.  Enjoy!
Any extra can be frozen for a quick dinner or lunch.