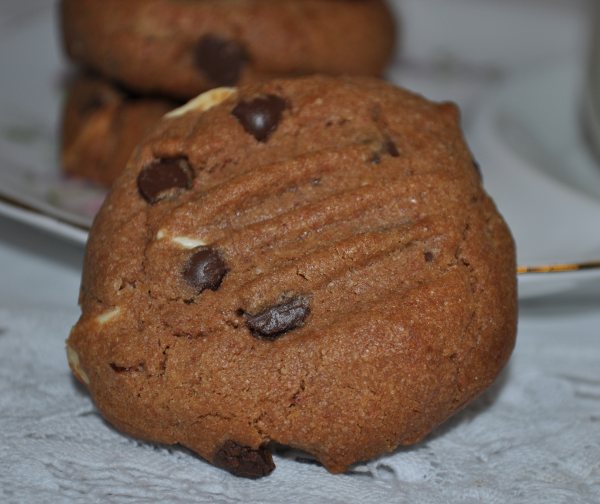 The idea for this recipe came to me one day while I was rummaging in the cupboard for something to make for dinner.  I thought to myself that I really should use up the packet of chocolate pudding mix that had been languishing in there for a while.  The 2 part packets of choc chips had been there for some time as well (they were hidden so the hubby hadn't found them).  The triple chocolate peanut butter cookie was born!
115 grams butter
2 Tbsp. Peanut Butter (I use homemade but any kind would work)
½ cup brown sugar
1 egg
½ tsp vanilla extract
1 ½ cups plain flour
1 packet chocolate pudding mix
1 tsp baking powder
½ tsp salt
1 packet mini choc chips (or less if you have a packet that needs using up)
1 packet white choc chips (or less if you have a packet that needs using up)
Preheat oven to 180°C.  In a large bowl, cream your butter, peanut butter and sugar until light and fluffy.  Add your egg and vanilla and mix to combine.  Sift the flour, salt, baking powder and pudding mix and add to the bowl.  Mix well to combine.  Add all of the chocolate chips and mix well to incorporate them right through the mix – you want some chips in every cookie.  Roll teaspoons of mixture into balls and place on oven tray.  Press down with a fork and bake for 12 mins or until cooked through (I like mine slightly under cooked as they are nice and chewy that way).  Let cool slightly on tray then transfer to cooling rack to cool completely.  Enjoy with a cold glass of milk.  Will keep for a week if stored in an airtight container.