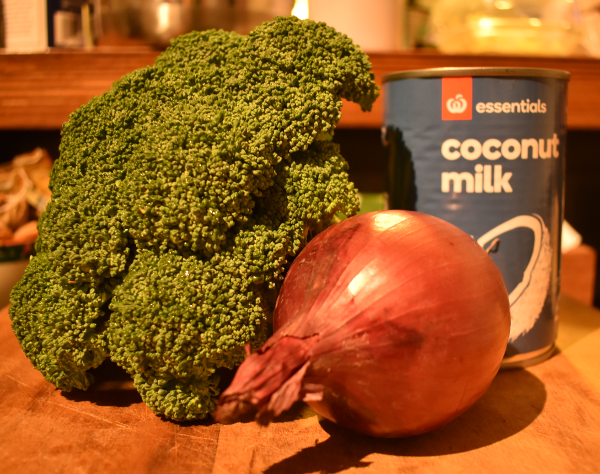 Continuing on with the Wintery Soup theme, this Broccoli and Coconut soup is simple and delicious.  Served 2 of us with enough left over for 2 lunches.  The other half of the tin of coconut milk went into some cheese sauce that I made for cauliflower and cheese and it was delicious, thoroughly recommended and a great way to use up extra coconut milk.
1 head broccoli
1/2 can coconut milk
1 red onion
3 cloves garlic
4 cups chicken stock (or vege stock to make this vegetarian)
salt and pepper to taste
Add the chicken stock to a pot and bring to a gentle simmer.  Roughly chop the broccoli, onion and garlic and add to the pot.  Bring to the boil and then simmer until the onions and broccoli are soft, about 15 mins.
Remove from the heat and puree with a stick blender or process in a blender until nice and smooth.
Return to a low heat and add the coconut milk and salt and pepper to taste and stir through.  Heat for 5 mins but do not let it boil.  Serve with some homemade scones or some cheesy scone bites or a nice crusty loaf.  This recipe also freezes well.