I was trawling though my pinterest feed the other day when I came across a pin for some delicious looking garlic cheese bombs
I clicked on the pin to go to the website and check out the recipe.  Unfortunately it was from an american website and called for an ingredient you can't buy here in NZ.  I thought it should be easy enough to replicate from scratch using my trusty Edmonds cookbook and their tried and tested scone recipe.  I made a few tweeks and additions to the basic recipe, and halved it as I was only making them for 2 people, and I came up with this little beaut of a recipe which went extremely well with some home made tomato soup for a quick weekend lunch (soup and scones for lunch in summer I hear you ask?  We have yet to experience anything akin to summer in our neck of the woods)
Recipe (based on the Edmonds Scone recipe – halve this for 2 people)
3 cups flour
6 tsp baking powder
pinch salt
2 tsp smoked paprika
4 tsp garlic powder
50g butter
1 1/4 cups milk
6 cloves garlic, crushed or very finely chopped
25g butter, melted
A block of Mozzarella cheese
Preheat your oven to 220°C.  Sift the flour, baking powder, salt, paprika and garlic powder into a large mixing bowl.  Add 4 of the crushed or chopped garlic cloves and mix to combine.  Rub in the 50g butter until well combined then add the milk and mix quickly with a knife.  Lightly knead to bring the mixture together.  You should have a nice firm dough.  If the mixture is a bit sticky, add some more flour and if it is a bit dry, add some more milk.
Break the dough up into equal sized portions, you should get approx 20.  Cut your cheese into an equal number of pieces so that you have one for each ball of dough.  These should be about 1cm square.  Roll a piece of your dough into a ball and poke a hole in it for the cheese.  Put the cheese into the hole and mould the dough around it, making sure the cheese is completely covered.  Repeat for all of your balls of dough.  Place them into a well greased baking dish,making sure that they are touching as this will help them stick together as they bake.  I used a loaf pan for the half recipe I made.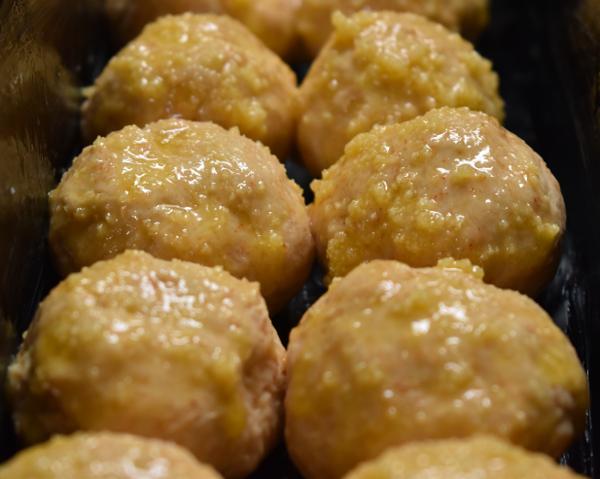 Mix the remaining 2 crushed garlic cloves with the 25g melted butter and brush this over the top of your dough balls.  Place in the preheated oven and bake for 12 – 15 mins or until golden and cooked through.  Remove from oven and let rest for a couple of mins then carefully invert onto a serving plate, making sure that the balls all stay stuck together.  Some of the cheese may ooze out during cooking.  Pull apart at the table and enjoy! Delicious with tomato soup.