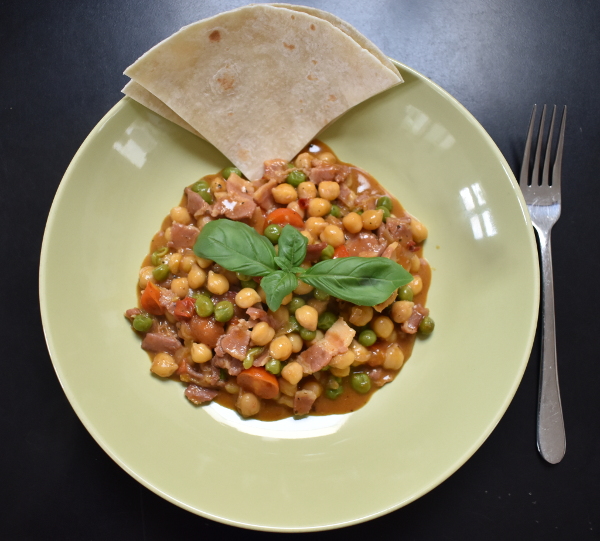 We had friends round for dinner last weekend and I made a cheesecake for dessert that required 1/2 cup of coconut cream.  That left me with the rest of the tin to be used up so today I used it to make this curry.  Although the addition of bacon was a bit random (had some in the fridge that needed using up) it was extremely delicious and I will be making it again.
Ingredients:
1 Tbsp olive oil
1 onion, finely sliced
3 cloves garlic, crushed
1 red chilli, finely chopped
4 rashers bacon, roughly chopped
1 tin chickpeas, drained and rinsed
3/4 tin coconut cream (or a whole tin if you don't have any to use up)
1 chicken stock cube
1/2 cup water
1 cup frozen peas
1 tsp paprika
1 tsp ground cumin
1 tsp ground coriander
a handful of cherry tomatoes, halved
arrowroot or cornflour to thicken if necessary
salt and pepper to taste
Pop your chicken stock cube into the 1/2 cup of water to dissolve.  In a frying pan, heat the olive oil and add the onion, garlic and bacon and cook over a medium heat for 5 mins or until onion is translucent.
Add in your chopped chilli and cook for another 2 mins.  Add your paprika, coriander and cumin and mix to combine then add your chickpeas, coconut cream and stock cube and water.
Bring to the boil then simmer for 15 mins or until the sauce is a nice thick consistency.  You might want to thicken it up a bit with some arrowroot or cornflour if it is a bit thin.
Add the frozen peas and cook for a further 5 mins then chuck in the cherry tomatoes right at the end and season with salt and pepper to taste.  Serve with flatbread or poppadoms.  Enjoy!