When my 2 nieces were very small, I made them a quilt each.  Their brother wan't born yet.  Each summer their mum gets the quilts out of storage to put on their beds.  Last year, nephew aged 6 asked where his quilt from Aunty Rachel was.  When his mother told him he didn't have one, he was sad for all of 5 mins then said "tell Aunty Rachel my favourite colours are orange and black"  Well I guess I was making him a quilt!
Mum (Nana) and I managed to rustle up enough fabric between us (luckily Spotlight were having a sale) and I cut out 88 squares to make the top of the quilt.  I went on holiday, Christmas came and the quilt squares lay forgotten in the corner of the sewing room.
I had a few days off over the Christmas/New Years period so got busy sewing the top.  I got it half finished before I had to go back to work.  Kitty likes to help when I sew.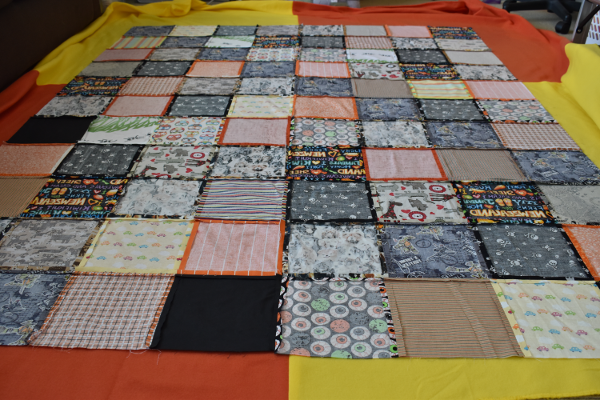 I had another week off and finished the top and laid it out onto the backing which I made from 4 fleece blankets I got from Briscoes which I sewed together.  I sewed the top to the back, turned it in the right way and stitched round the edge.  I also did a few tacking stitches throughout to anchor the front to the back.  It certainly fits the orange and black requirements and we managed to get a bit of Kiwiana into it as well as Ninja Turtles and Dogs which he loves.  It just needs to make it's way to the other side of the world and I'm sure to be the favourite Aunty of one very happy nephew!