I am always on the look out for ways to reduce the amount of waste that we produce as a household and save money.  About 6 months ago, while browsing Pinterest, I found a pin for slow cooker beans.  The pin was for how to cook black beans in your slow cooker as an alternative to buying them in tins.  I was immediately keen to try this as black beans are my all time favourite.  I use them in just about every stew and soup I make in winter but they can be a bit pricey to buy here in tins.  There is an abundance of ethnic food stores in my suburb so I went and got some dried black beans and gave it a go.  I haven't brought a tin of beans since.
I have used this method for chick peas, pinto beans, black beans and white beans and it has worked for all of them.  It also works out so much cheaper than buying a tin and you have way less waste.  I portion the beans out into 1 1/2 cups per bag which is roughly a tins worth and enough for 2 people and I can get 5 or 6 bags from $3.00 worth of dried beans.  They store flat in your freezer so take up very little room and defrost super fast.
When I am cooking black beans, I save the cooking liquid, let it cool and freeze it in ice cube trays then store them in the freezer in a plastic bag and add a couple to any soup or stew I am making for an extra bit of flavour.  I haven't tried this with any of the other beans, I normally just tip the cooking water into the garden to hopefully add some goodness to the soil.
They are very easy to make.  Add your dried beans to the bowl of your slow cooker, cover them with water and leave to soak overnight.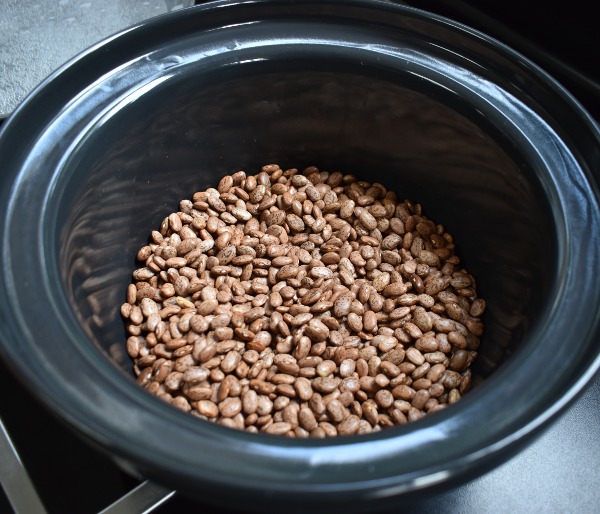 Once the beans have soaked, tip out the water and give the beans a rinse.  Add fresh water to the beans so they are covered and cook on low for 6 hours or until the beans are done.  I have left them for up to 12 hours in the past and they have been fine.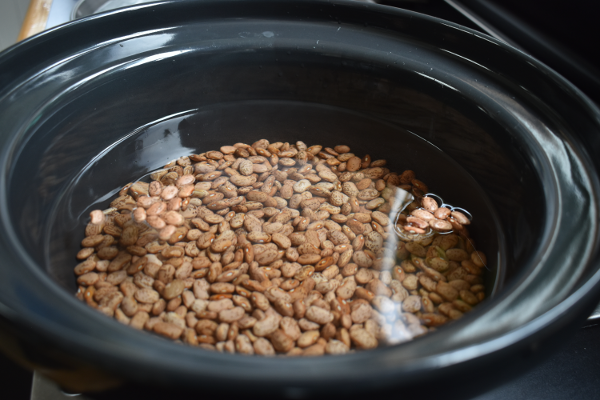 Leave to cool then portion into bags and put into the freezer for future use.  Never buy a tin of beans again.  The other bonus is that you know exactly what is in your beans – just beans!  No additives, sugar etc etc etc…………
I have tried cooking the beans without presoaking them first but I found that they take longer to cook and don't get as tender so I always presoak.