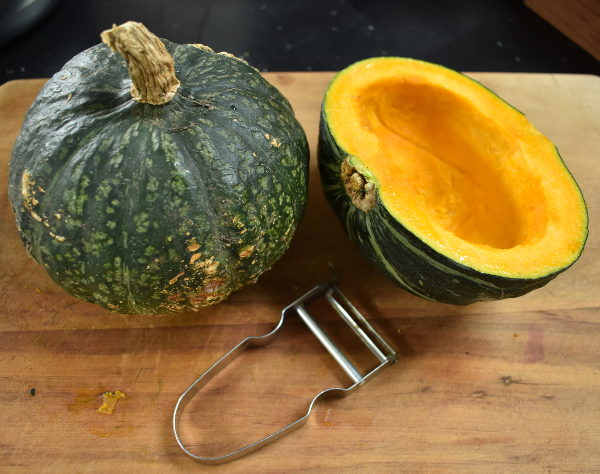 Pumpkin soup is my all time favourite.  Unfortunately Hubby doesn't feel the same way so I don't often get to make it.  There are hundreds of Pumpkin soup recipes on the internet but this it the one I always make and it turns out delicious everytime.  I don't even know the origins of this recipe as my Mum taught me how to make this one.  Feeds 6 people and any leftovers can be frozen.
1 large pumpkin
1 large onion
4 cups chicken or vege stock
salt and pepper to taste
Optional toppings:
Bacon
Parsley or coriander
Sour cream
Peel and chop the pumpkin.  Peel and chop the onion.  It doesn't matter how rough it is as it will all get whizzed up in the end. Put the pumpkin, onion and stock into a pot (you can also use vege stock if you want to make this vegetarian) and top up with water so that all of the pumpkin is covered.
Bring to the boil and then simmer with the lid on until the pumpkin is nice and soft.  Leave to cool slightly then whiz it all together using a stick blender or blender until it is nice and smooth.  Place back on a low heat to warm through and add salt and pepper to taste.  I like to crisp up some nice streaky bacon and cut it into chunks to sprinkle over the top and add a blob of sour cream and some parsley.  No fail, easy as Pumpkin soup.  Serve with some cheese scones for a hearty winter dinner.
Any leftovers can be frozen for a quick lunch or mid week dinner.  I also make extra scones and freeze the leftovers for the next time I have soup.
Enjoy!