All I can say is you need to make these.  They are easy and delicious and they freeze really well.  I have made a couple of batches since we have been in lockdown and we have had them for lunch or for dinner with steamed veges or a quick salad.  
First you need to make the dough.  You will need:
3 1/4 cups flour,  1 tsp baking powder,  1 tbsp sugar,  1 tsp salt,  1 cup warm water,  3 tsp yeast,  2 tbsp olive oil
Mix the warm water, yeast and olive oil together in a bowl and leave to activate.
In another bowl, add flour, baking powder, sugar and salt.  Mix together with a wooden spoon.  
Add the yeast mixture to the flour and mix together until you form a nice ball of dough.  Remove the dough from the bowl, rub the inside of the bowl with a bit of oil and replace the dough into the bowl.  Cover the bowl with a teatowel and leave to rise somewhere warm for a couple of hours or until doubled in size.
Once your dough is ready, place it onto a floured bench and give it a bit of a knead.  Cut it into 8 equal sized pieces.
Assemble your fillings.  You can use anything you like in these.  The first batch I made had tomato sauce, mozarella, ham or salami and basil.  I snuck some left over veges into the second batch including some cherry tomatoes but I wouldn't recommend these as they get really hot and the juice spurts out when you bite into one!  The grated carrot and courgette was good and these are ideal for using up anything you have in the fridge or cupboard.
Roll out your balls of dough and add the filling.  You don't want to over fill them or they could burst while cooking.  Dip your finger into some water and run it round the edge of the dough so that it sticks when you crimp the edges together.  
Repeat until you have filled all 8 bits of dough and place onto a lined oven tray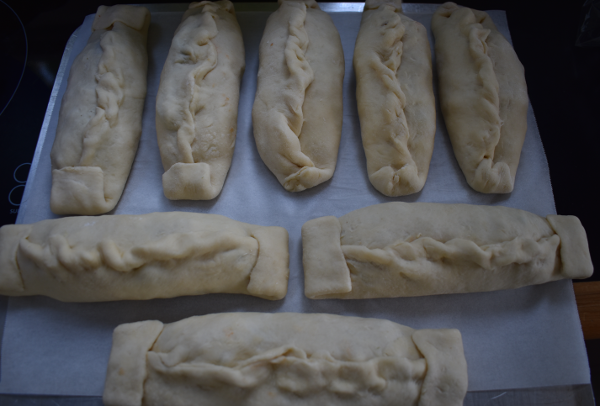 I brush mine with a little bit of milk before I bake them for approx 15 mins at 180 degrees or until they are nice and golden.
Either eat straight out of the oven or wait until they have cooled completely and pop into bags or containers and put into the freezer.  I defrost mine completely before heating in a 150 degree oven for 10 – 15 mins.  Delish!