It's officially Plastic Free July so I thought I would share some of the things I have been doing to try to reduce the amount of single use plastic we bring into the house.  I was shocked recently to find out that our beautiful Oriental Bay here in Wellington has some of the worlds worst plastic pollution.  Two of our national supermarket chains,  New World and Countdown have committed to phasing out all plastic bags by the end of 2018, and by the end of 2019 they are aiming to be single use plastic bag free.  New World are giving away 2 million free reusable bags and Countdown are selling theirs for $1.00 but will replace them for free when they wear out.  We order our groceries online and have recently started to get them delivered in banana boxes rather than plastic bags.  We can then recycle the boxes or use them for other things (like car parts).  I also have an eclectic collection of reusable bags collected from various countries and places over the years that I take when I go shopping.
I currently use my supermarket plastic bags as bin liners but when I run out, I will either use newspaper or nothing and empty my bin more frequently.  We compost all our vege scraps already.  Greenpeace have written a great article about how to avoid using plastic bin bags or check out this great video for how to make a newspaper liner for your bin.  There is growing support for a Government ban on single use plastic bags which is backed by Helen Clark, Sam Neil and Jane Goodall.
For my weekly shop at the vege market, I have a collection of reusable bags that I made out of net curtain fabric.  When they get a bit dirty, I just chuck them in the washing machine.  They live in the back pocket of my shopping trolley so I never forget to take them with me.  They are also great for storing your veges in the fridge.  I didn't use a pattern to make them, just cut the fabric to the approximate size I wanted and sewed them up.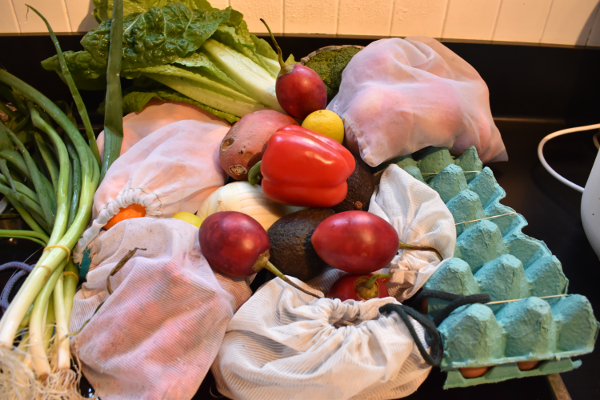 We have invested in a couple of stainless steel straws and the ones we got came with a handy little brush to clean them out.  I got mine at Commonsense Organics but they are available all over the internet.  We have had ours for a number of years and they are great.  When I am out, I just ask for no straw with my drink and it is great to see a growing number of shops and bars that no longer offer them.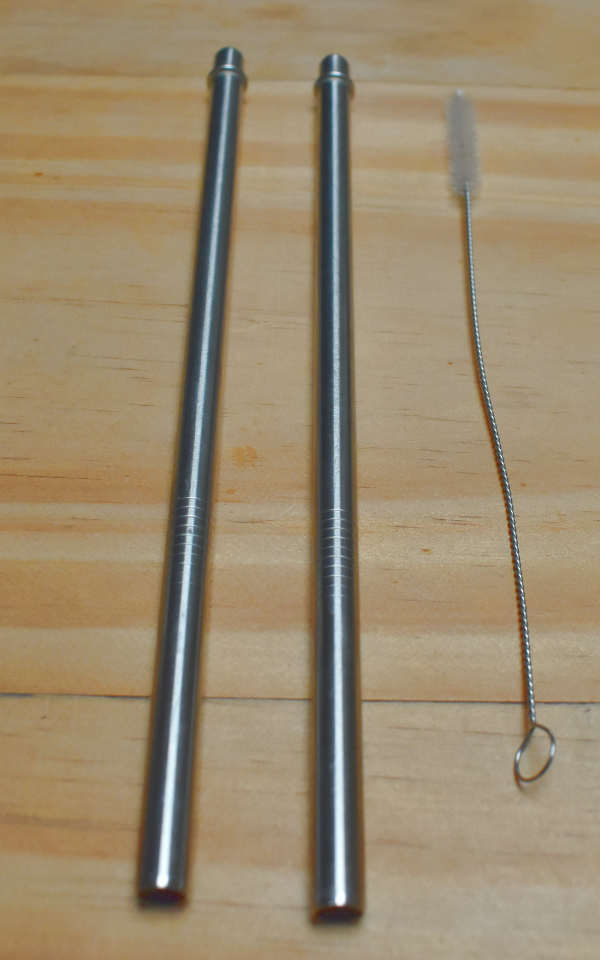 I buy all of my meat at Wellington Halal Meat Ltd butchers in Newtown and when I was in there a few weeks ago, I asked if I could bring my own containers for them to put the meat into.  They said it was no problem and they already have lots of customers that do that.  Yay – no more single use plastic bags from the butchers.  I just put the containers straight into the freezer or fridge when I get home.  They zero the scales before they fill them up so you only pay for the meat.  I have got a good collection of plastic containers now and I use them for freezing everything instead of plastic freezer bags.  I have previously blogged about bulk cooking beans in my slow cooker and I now use plastic containers instead of bags for those too.  Sistema containers are made in NZ and are phthalate and BPA free.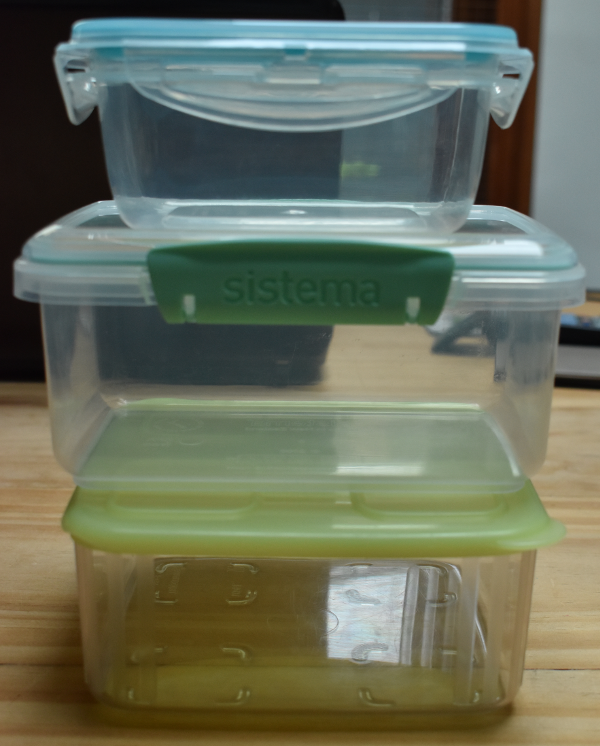 We haven't used gladwrap for a while now.  We use beeswax wraps for sandwiches and other lunch items and for wrapping cheese in the fridge – tutorial on how to make them here.
For covering bowls in the fridge, I made a number of different sized fabric bowl covers.  I just put the bowl I wanted the cover for on the piece of fabric and drew a circle 5 cm bigger than the bowl, cut it out and sewed elastic to the edge.  They work a treat.  Check out this easy tutorial on how to make them here.  Just chuck them in the washing machine if they get food on them.
One other way I am trying to reduce plastic round the house is to slowly replace my plastic pegs as they break with bamboo ones.  The peg itself is compostable and the metal clip is recyclable.  I got mine at Commonsense Organics but again, they are available all over the internet.
But…… sadly after doing all of that, I still have a full soft plastic recycling bin at the end of each week as a lot of the food items that you buy all come in plastic.  Lucking we have a great soft plastic recycling scheme available to us here in Wellington but this is one area I am going to focus on this plastic free July.  We need someone to open a Bin Inn in Newtown!  One of the things I am going to try is making myself some reusable bags to take to the supermarket so I don't have to use plastic when buying foods from the bulk bins and buy items in paper where possible.
I would love to hear any ideas you have or tips and tricks you have used yourself.  I hope this post has inspired you to ditch at least one single use plastic item from your life.  Every little bit counts!