While I was on holiday recently I discovered a new brand of hummus which was so delicious and creamy, I was compelled to try and recreate it at home.  I had tried making hummus in the past but it had always turned out grainy and tasted of raw garlic so I would always buy it from the grocery store.
I did some extensive research on the interweb and discovered that the trick to smooth creamy hummus is to get rid of the chickpea skins.  The first batch I made, I used tinned chickpeas that I peeled.  This was a total pfaff and took me half an hour.  The other issue I have with tinned chickpeas is that most of them are tinned in brine and are incredibly salty.  Hubby has high blood pressure so we try to have as little salt in our diet as possible.  Watties do tinned chickpeas in springwater which have the lowest amount of salt of any tinned variety that I have found for sale here in NZ but they still have to be peeled.
Enter dried chickpeas.  Yes they do need to be soaked overnight before you can use them but if you boil them with a teaspoon of baking soda, the skins float right off and any that don't are softened enough that you don't have to worry about removing them.  Once they have cooled, you can make your hummus.  This recipe makes enough to fill a repurposed 220g hummus container
1/2 cup dried chickpeas
1 tsp baking soda
1 tablespoon tahini or smooth peanut butter
juice of half a lemon
cold water
salt to taste
Place your chickpeas into a bowl and cover with enough water so that the chickpeas will be covered as they swell.  Leave overnight to soak.
When you are ready to make your hummus, drain and rinse the chickpeas and add to a pot.  Sprinkle over the baking soda and stir through so that all of the chickpeas are covered.  Add enough cold water so that the chickpeas are covered with an extra 5 cm.  Bring to the boil.  Skim off any foam and skins that float to the surface.  Reduce the heat to a gentle boil and cook for 20 mins or until the chickpeas break apart easily in your fingers.  Drain and leave to cool.
Place the cooled chickpeas into your food processor and pulse until they resemble crumbs.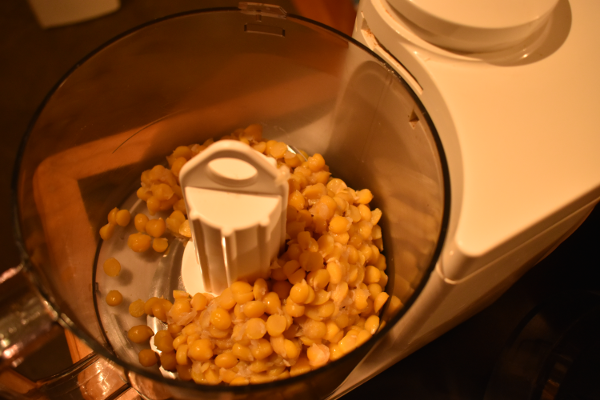 Add the tahini (or peanut butter) and lemon juice and blitz until it starts to look nice and smooth.  You will need to scrape down the sides a couple of times so that all of the chickpeas are well blitzed.
Once it looks like hummus, slowly add water while the processor is running until you get the smooth consistency you are after.  Add salt to taste.  Once you have achieved your desired consistency, leave the food processor running for at least 3 minutes.  This gives a nice airy whipped consistency to your hummus.  Place into your container and store in the fridge for up to a week.
Serve drizzled with olive oil and sprinkled with paprika and devour with your favourite chips.  Delish!