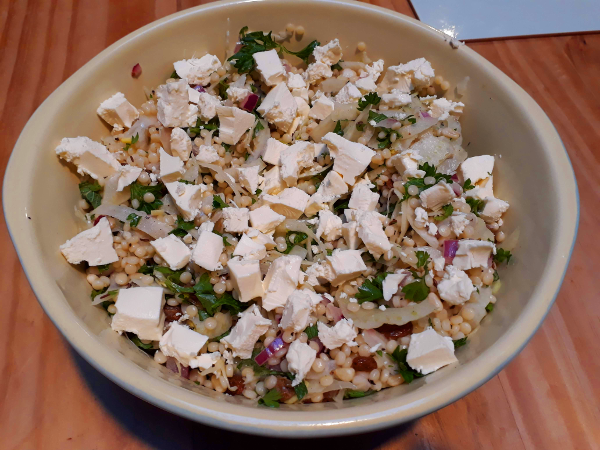 This salad came about from a stuffing recipe for chicken, a salad to go with the chicken and a salad recipe I found online when I was looking for instructions on how to cook giant couscous.  I pinched bits from each recipe and result = delicious!  Serves at least 8 as a side.
300g Giant Couscous
1 bulb fennel
juice of 2 lemons
2 tbsp olive oil
1 tsp cumin seeds
1 red onion, finely chopped
50g pine nuts
50g raisins, soaked in boiling water
salt and pepper to taste
fresh mint
fresh parsley
feta cheese
Cook the couscous according to the packet instructions.  While it is cooking, add the lemon juice, olive oil and red onion to a large bowl and mix together.  Chop your fennel finely and mix into the dressing.  Add the cooked couscous and mix well.  Toast the cumin seeds in a hot pan and add to the bowl along with the pine nuts and raisins and mix well.  Season to taste with salt and pepper.   Leave for the flavours to meld.  Just before serving, roughly chop your parsley and mint and stir through.  Crumble the feta on the top and serve.  We had ours with chicken and pita breads.  Delicious!