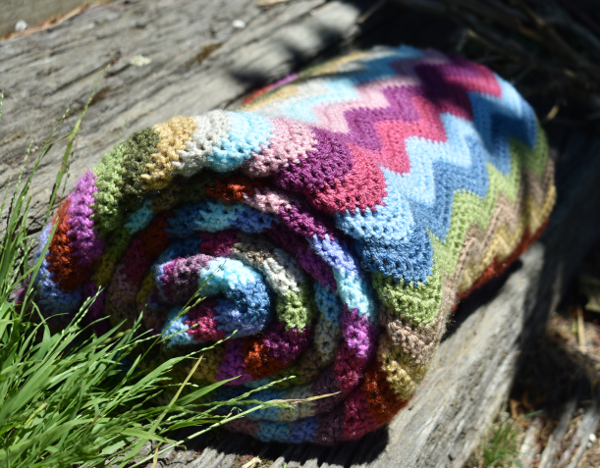 I have previously shared with you my Temperature Blanket journey (see here for the finished product) and I have several other blankets that I have made over the years so the other day when I was having a change around in the lounge, I took some photos to share them with you
The first one I call my car ride blanket.  I made the all the squares for this blanket on the 8 or 9 four hours each way car trips we made up to Napier in 2012 when my Grandparents and  Parents in Law were unwell and the subsequent funerals for the grandparents.  It is made from all of my scraps and the cream wool was some that I had thrifted.
Next is my Cottage Ripple which is an Attic 24 pattern.  I love the colours in this blanket and and the pattern was super easy to follow.  This was my first Attic 24 blanket pattern.  I brought the kit from Wool Warehouse and it includes the pattern and enough yarn to complete your blanket.  I currently have another one on the go but it is far from finished and languishing at the bottom of the WIP pile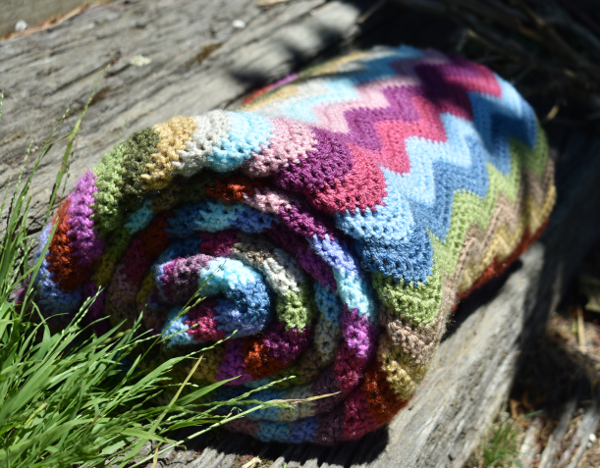 My granny stripe blanket is another Attic 24 pattern and I made this one using wool from my stash and doing a mirror repeat.  This is the perfect size to put over my legs in Winter when I am sitting on the couch knitting or crocheting in the evenings.  Again it is an easy pattern to follow and you can make it as big or small as you like.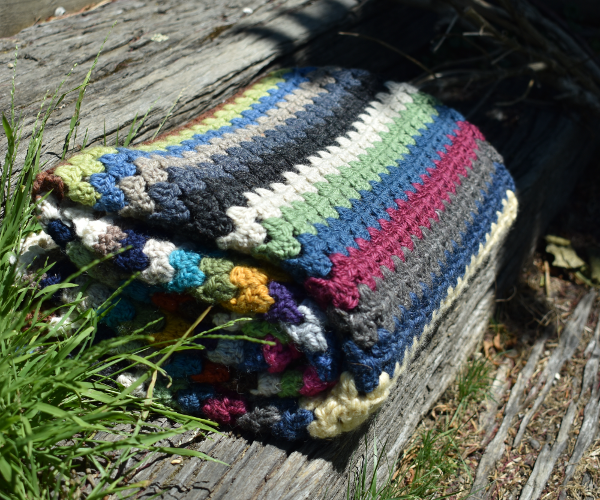 Last is a knitted blanket I made to use up some more of my stash.  Each stripe of colour is one ball of yarn and I did a simple crochet border.  The cat likes to claim this one when it is out and about being used.  It is a nice small blanket, perfect for putting over your legs.
And they all live on the Blanket Ladder which my father in law made (he used it as an actual ladder and we snaffled it when he was cleaning out his shed and turned it into the Blanket Ladder) which has pride of place in the lounge