Very fittingly on the first day of Me Made May, I met up with three friends for a Nova Coat sew-a-long.  Myself, A and J were making coats and M was there to give us a helping hand, having previously made 3 versions of the Nova Coat herself.  We all decided to make a blue coat in varying shades.   
Mine is Boiled Wool in the shade of Peacock which I purchased from the amazing Miss Maude in Greytown (if you haven't been yet, you must!)  Sadly they have sold out of this colour but they have others available.  My lining is Rayon with small flowers that looks a bit like a mosiac which I purchased from The Fabric Store here in Wellington.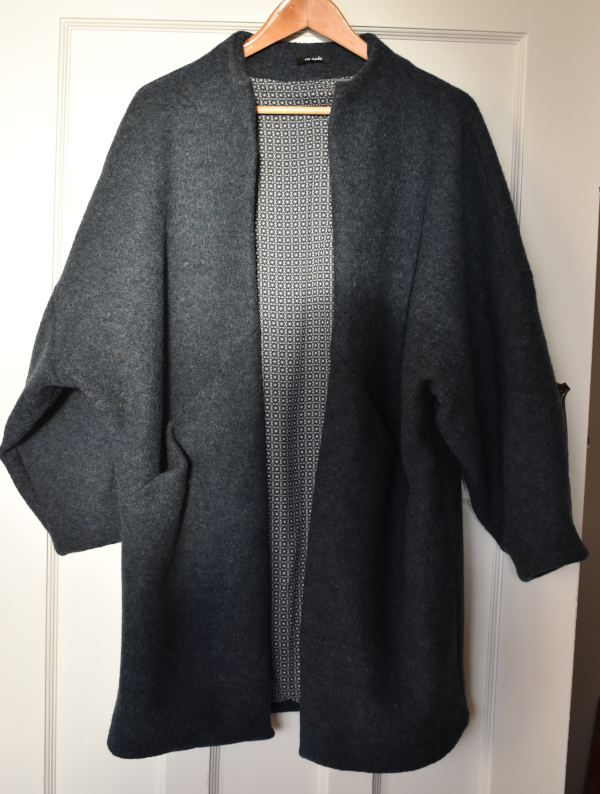 A made hers from gorgeous Navy Wool with a white spotted navy lining
And J made a short version with Blue Fluff and the coolest floral silk lining
Three coats, not bad for a day sewing and they all came together easily and quickly.  Some parts of the pattern were a bit confusing so it was a great help to have M there to talk us through the tricky bits and there is also a great tutorial on the Papercut website with step by step pictures.  This was the most ambitious sewing project I have attempted to date and I am thrilled how it turned out.  We are already planning to make another one each so stay tuned for Nova Coat edition 2.