Happy New Year and Happy New Decade everyone!
I thought I would report in on the pledge I made last year to not buy any new clothes and appreciate and wear what I already had.  I am pleased to say that it was a success!  I just found that I couldn't be bothered shopping and if I did see something I liked, decided I didn't need it.
I did buy 2 new to me things during the year though.  Both were purchased secondhand in July when we did our Op Shop Roadie up to Palmerston North and back.
The first thing was a black shirt that I actually needed to complete a costume I was making to wear to a screening of the Rocky Horror Show (my all time favourite movie, I went as Magenta) which I then added to my wardrobe.  A bargain at $7.00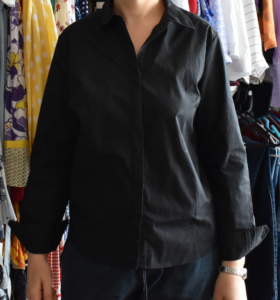 The other thing I scored was a fitted tweed jacket for $25.00 from a cool vintage shop in Foxton called Goldie's Junk and Disorderly.  I had been looking for a tweed jacket for about 3 years so was stoked to finally find one
I also got my completed jersey from my Mother-In-Law and it got some good use over Winter.  
I also finished a making a tank top that I cut out 2 years ago.  I used fabric that was left over when hubby made himself a summer dressing gown.  It is Tana Lawn, nice and light for Summer which I am hoping will arrive any day now so I can actually wear it.
I'll keep you posted on my progress and I have a couple of items I am making in the pipeline to show you as well