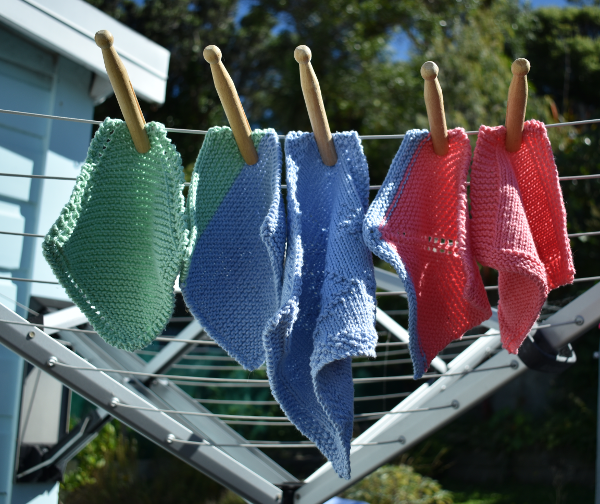 It's Official.  I am addicted to knitting dishcloths.  As soon as I cast off from one, I cast on for another.  I have been experimenting with a range of patterns including a couple I have "invented" myself (I'm sure they are already on the internet somewhere)
This cute little garden girl one I made using this pattern
This one I found here – mine didn't come out quite square, I think my cast off was a bit tight
This is one of the ones I "invented"
Cast on 35 stitches
Rows 1 – 6, knit
Row 7, K5, P25, K5
Row 8, Knit
Rows 7 and 8 form the pattern.   Repeat rows 7 and 8 until your work measures 15cm ending with a knit row.
Knit 6 rows
Cast off and stitch in ends.
This is one of Granny's Favourites (and one of my favourites to knit, I can whip up one of these a night)
And last but not least, a simple knit one I made up by casting on 35 stitches and knitting until it was approx 15 cm long then casting off.  To create a nice edge, I slipped the first stitch of every row.
All of these dishcloths were knitted using the cotton I got from Lincraft.  You can get 2 and a bit of the Granny's favourites from each ball so extremely good value.  The Little Garden Girl cloth was a bit bigger than I would normally make (47 stitches cast on) and I still managed to get almost a whole extra cloth from that ball.
I hope this inspires you to go forth and knit some sustainable, environmentally friendly alternatives to your supermarket sponge!  Stay tuned, I have another batch that I am "cooking" up at the moment to be revealed.