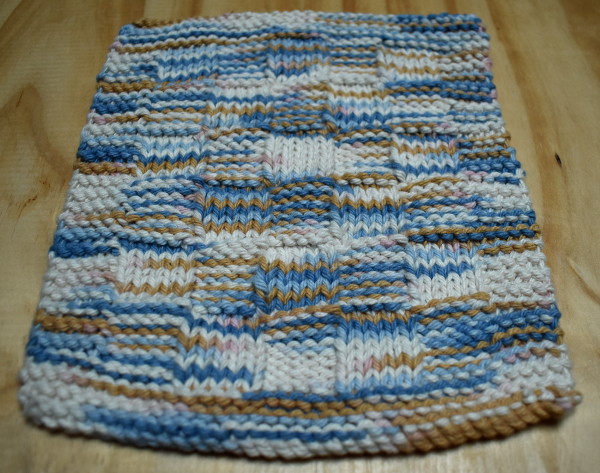 I was given a dishcloth pattern last week.  There was no picture on the pattern so when I got home, I started knitting one straight away to see what it looked like.  It was quite a nice pattern but a bit fiddly for my liking so below is my version which is much easier to knit and would be suitable for beginner knitters.
Materials – 1 ball of dishcloth cotton (I used Lily Sugar n Cream) and 4 mm needles
Pattern
K = Knit
P = Purl
Using 4 mm needles, cast on 35 stitches
Row 1 – 6, knit all rows.  This forms the lower border
Row 7 – K10, P5, K5, P5, K10
Row 8 – K5, P5, K5, P5, K5, P5, K5
Repeat rows 7 and 8 three more times
Row 15 – K5, P5, K5, P5, K5, P5, K5
Row 16 – K10, P5, K5, P5, K10
Repeat rows 15 and 16 three more times
22 rows worked
Repeat rows 7 – 22 two more times
Row 55 – 60 knit all rows to form top border
Cast off, stitch in ends, use and enjoy.  Throw it in the washing machine and dry on the line for a completely reusable and sustainable alternative to store brought sponges.