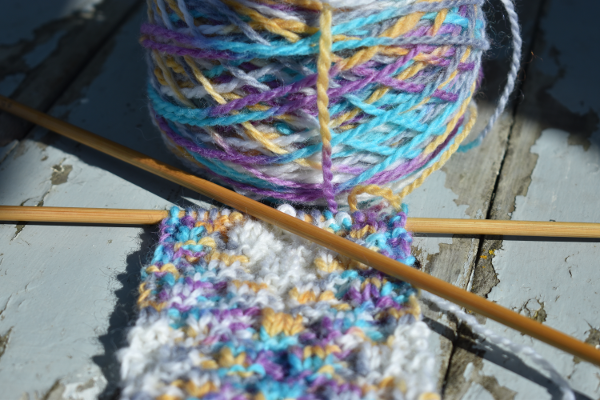 I recently went to a Yarn Tasting at Knit World.  In case you are wondering what a yarn tasting is, you don't eat the wool, you knit a small sample with it to see how it feels and knits up.  It was great fun and I found a couple of new yarns that I am going to try.
As part of the event there was a basket of goodies up for grabs.  We had to walk around and find the answers to the yarn themed questions on our quiz.  This is also a brilliant way to encourage you to have a look round the shop and spy anything you might like to purchase.  It worked.  I came home with some wool for a beanie (more on that later), a beautiful variegated wool for a scarf and a new type of dishcloth cotton.
As soon as I saw this wool, I knew I had to bring it home to make myself a scarf.  The colours are perfect.  I decided to go for skinny and long so I can wrap it round myself a few times for extra warmth.
It is Woolly Crafty 100g hank 8 ply 100% wool in shade 68.  I cast on 18 stitches and am doing knit 2 purl 4 for 4 rows then Purl 2 knit 2 for 4 rows to create a nice textured effect.  It knits up really quickly and is a perfect project to snuggle up on the couch with in the evening.  It's still quite mild here at the moment so I will be finished in plenty of time for Winter.
The colours are creating a nice pattern as it knits up.  Stay tuned for the finished product!