Every so often, I find a sewing pattern that is so good, I end up making multiple garments of the same pattern.  Burnside Bibs by Sew House Seven is my latest fav make.
I have made 4 pairs of these and recommend them to anyone wanting an easy to make, super comfy outfit that you can make casual or dressy depending on the fabric you use.  
One of the reasons I make my own clothes is I like having something no-one else will have and I have definitely reflected that in two of the fabric choices I made for these.
The first pair I made was out of a light weight chambray denim and they are so comfy to wear and the fabric has a really nice drape.  I got it from Spotlight and they always have a good range of denims in stock.
The next pair I made in a Navy heavy linen that I got from the Fabric Store.  These also have a great drape and are better suited for winter as the fabric is quite thick.
The third pair are a bit out there and I always get comments when I wear these.  The yellow tartan was given to me by a friend who got it when she was visiting family in Japan but she never used it for anything.  It is a very narrow fabric (just 38cm) so I was limited as to what I could do with it.  It was wide enough to cut out the front of the pants but not the back so I paired it with some black drill from Spotlight and I was thrilled with the result.  Hubby calls these my clown pants.
My final pair I opted for some red tartan from Spotlight and these are my favourite.  They are just so bold and different and I guarantee no-one else has a pair of these which is what I love about making my own clothes.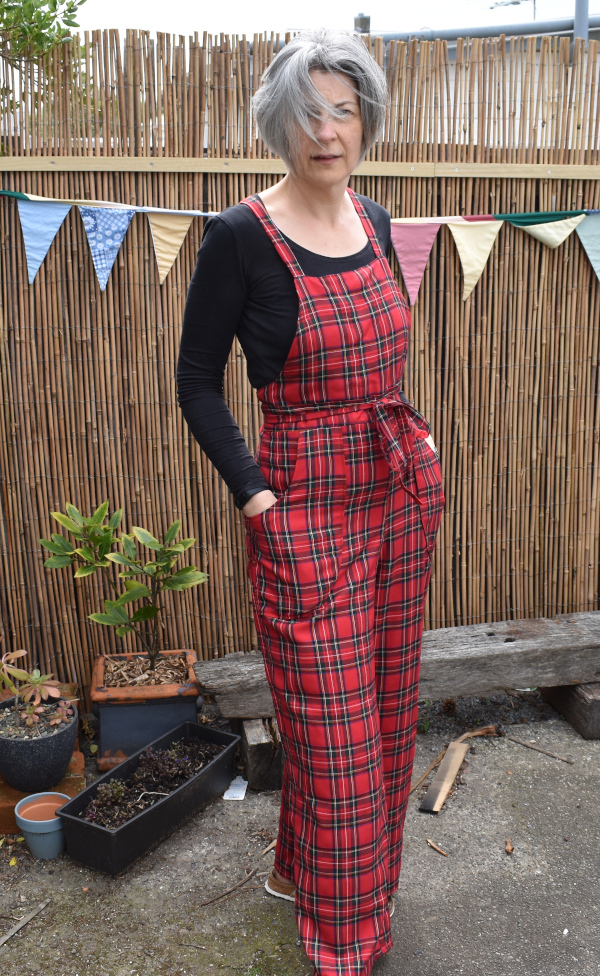 I definitely recommend this pattern if you are looking for a comfy, easy garment for work or play!