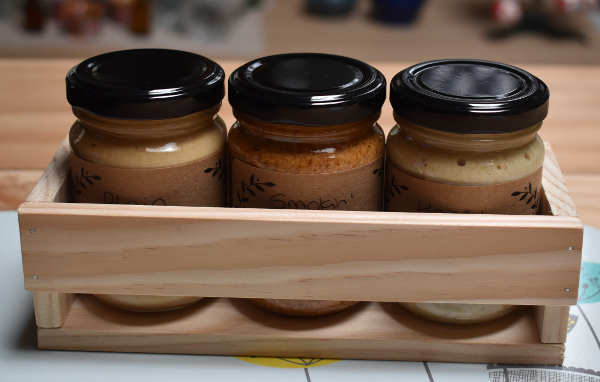 I always prefer to give handmade Christmas gifts where possible and last year, one of the gifts I gave was peanut butter.  I wanted a cool and different way of packaging it, rather than just putting it into a jar.  I decided to do three jars in a handmade crate so I could do different flavours.
I decided on the size of the jars and then used dressed pine from Bunnings in two different sizes to make the crates (well I didn't actually make them, I got hubby to help and he ended up doing the whole lot).
The three flavours I decided on were Paprika and Chipotle (Smokin' Hot), Plain (Plain Peanut Perfection) and Honey Roasted (Honey, I'm so sweet).
Plain Peanut Perfection
For this one I just made my Homemade Peanut Butter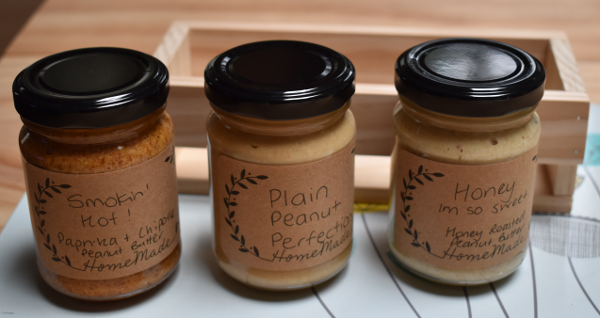 Smokin' Hot
This one was made using my Homemade Peanut Butter recipe as the base and when I got to the stage where you add the oil and salt, I also added some smoked paprika and some ground chipotle powder.  I added each a little bit at a time and kept tasting it until I was happy with the result.  The chipotle powder I have is very hot so I only add this a tiny bit at a time.  If you don't have any chipotle, you could use chilli powder instead.  You just want to introduce a bit of subtle heat to the peanut butter.  This one is my favourite and I always have a jar of this in the fridge.
Honey I'm so Sweet
For this one, I used blanched peanuts and coated them in honey on the tray before I put them in the oven to roast.  I let them cool completely before I used them.  The honey caused them to stick together in clumps so I broke these up into smaller bits before putting them into the food processor.  I then followed the rest of the steps for my Homemade Peanut Butter recipe.  The addition of salt at the end brings out the sweetness of the honey.
Mum was one of the recipients of these.  She has a catering company in Hawkes Bay and has added them to her repertoire.  I am sold on the crates idea but for this year I'm thinking either jams or chutney.