I have been making my own nut butters for a few years now.  Peanut butter is so cheap and easy to make, I can't really even justify calling this a recipe.  I prefer to buy raw peanuts and roast them myself but you could skip that step by buying unsalted pre roasted peanuts.  If you are lucky enough to live near a Bin Inn, they sell the high oleic peanuts that are the best for making peanut butter.  I buy my peanuts from Moore Wilsons here in Wellington.
Take 500g raw blanched peanuts or raw red skinned peanuts (these make a nice, dark, extra nutty tasting peanut butter), spread them evenly in a roasting dish or high sided oven tray and roast in a 180ºC oven until they are a nice colour.  Don't wander off and do something else while they are roasting as they burn very easily (I know this from experience!)  Shake the tray every 5 mins or so to get a nice even roast.  Remove from the oven but leave it going.
Pour the peanuts into a bowl to cool (hide the bowl from your husband so he doesn't eat them all).  While they are cooling, wash your jar in hot soapy water and dry with a clean tea towel.  Dolmio pasta sauce jars are the perfect size for this amount of peanuts.  Put your clean jar in the oven and turn the oven off.  Put the lid in a bowl of boiling water.
While your jar is heating, put the peanuts into a food processor, turn it on and leave it until it looks like peanut butter.
You may have to stop the machine a couple of times to scrape down the sides and I always wear ear muffs when I am making this as it gets quite loud at the start when you first turn the machine on.
After about 5 – 7 mins you should have crumbs.  This isn't far enough yet, you need to keep going.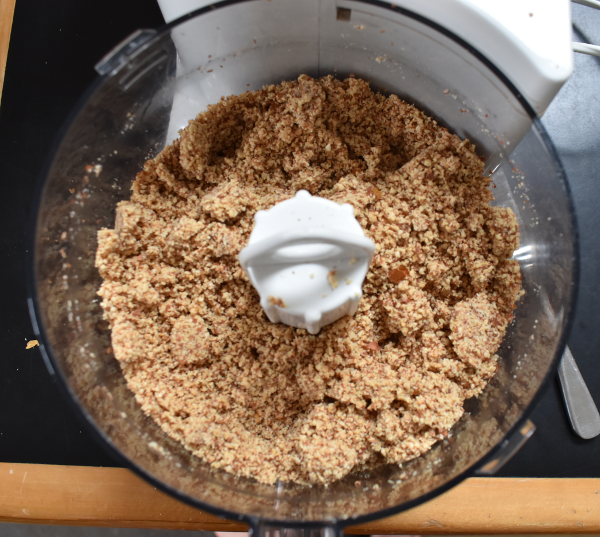 Once you have a nice peanut butter looking consistency, you can add salt to taste and oil to loosen up the paste if you think it is a bit thick.  I like mine quite runny.
Add as much or as little oil as necessary to get the desired consistency.  I normally use olive oil and have also successfully used peanut oil and avocado oil in the past.  Taste for seasoning and add more salt if necessary.  I add the salt a little bit at a time and taste after each addition as it is easy to add too much.
Put the peanut butter into your hot jar and put the lid on straight away.  Leave out on the bench to cool and then store in the fridge.  This will last for ages (unless you eat it really quickly) and is delicious on some hot vogels with lots of butter and cottage cheese.
This makes a smooth peanut butter.  If you like yours with a bit of crunch, keep a handful of peanuts aside and add with the oil and salt so they are still chunky.  I use this same method to make all of my nut butters.  Walnut is a particular favourite of mine or you could get adventurous and make a combo.  Almond and Brazil nut is good.
I guarantee once you have tasted homemade, you will never buy store brought again.