As promised in my last wardrobe post, we had another coat making day with 4 coats made.  I made the short version of the Nova Coat in a purple pinstripe Japanese wool that I purchased from the Fabric Store with a funky lining made from Liberty Tana lawn in colourway Polka Sky C
I had loads of fabric leftover so I made a matching bias cut skirt using the Tedra skirt pattern from the book Everyday style by Lotta Jansdotter. When I wore them to work together, someone commented that I looked like I was wearing my 80's power suit. I took that compliment and totally rocked it!
I have also been busy sewing some other things.
I made 2 velvet dresses using the Felicia Pinafore Dress pattern from Tessuti Fabrics. To be honest, I probably chose the wrong fabric to make this out of as the pattern has alot of facings and it was a complete faff to sew these in velvet. I also did the pockets differently. I was trying to recreate the velvet dresses me and my sister lived in for most of the mid 90's and I am happy with how the first one turned out. I used cotton velvet from Spotlight that was on sale for $10 per metre so the dress only cost me $20 to make. The colour hasn't come out very well in the photo but it is a nice muted green.
The second dress was made from the same velvet but this time in purple and I lined the bodice instead of faffing round with the facings for this one. I had some leftover Tana lawn from the lining of my purple Nova coat that I used for the lining and I shortened the bodice by 8cm to give it more of an empire line feel. I like this one better due to the shortened bodice. I kept the skirt length the same and just moved the pockets down by 7cm and they are in the perfect place.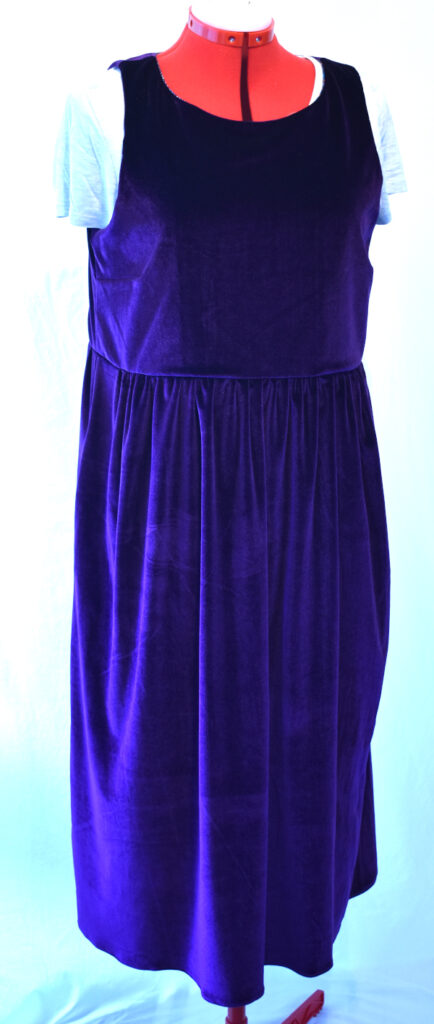 Next up on the cutting table – the Apron dress from The Assembly Line.  This pattern was great up until I had to attach the snaps at the back.  I couldn't get them in the right place so I ended up changing the design and doing 2 pleats instead of one and ordered myself a dress form at 9.45pm on a Sunday.  I am happy with how it turned out and the fabric I used is a light canvas from Spotlight which was the perfect weight for this dress.
Another Esme Tunic from Lotta Jansdotters book Everyday Style has made it's way into my wardrobe.  I made this one longer and instead of the 2 pockets on the front, I did a pocket in the right side seam.  I made this in eggplant gingham linen from The Fabric Store and it will be nice and cool for summer.
And last but not least, I have been coveting all the amazing African wax print skirts that have been popping up all over instagram so decided to make one for myself. I didn't use a pattern for this one, just got 1.5 metres of fabric and gathered it at the top, added a zip in the side seam and used the waistband from my three pleat skirt pattern and banged it all together. I am really happy with how this turned out and I always get lots of comments when I wear it. The one change I am going to make to it is to take it up a bit though as it is a tad too long for my liking.
So thats my sewing adventures for today, stay tuned for some lockdown sewing now that we are back in Level 4 here in NZ. I have a couple of things on my cutting table at the moment.