I have been very busy in the sewing room of late, rustling up all sorts of goodies. Lets take a look shall we?
First up we have a pull on pocketed dress made using some broadcloth which was on sale at spotlight. The pattern is one I got from an op shop when we were on holiday up North last year and it was cut out to my size. There are only 2 pattern pieces (3 if you count the sash) and it comes together so quickly. If I make it again, I will add belt loops and just make a belt instead of the sash.
Next is another op shop pattern that I got from the Salvation Army store in Masterton for 50 cents and this one was cut out a size too big so just had to cut the pattern down one size. I made it using some linen I got from Drapers Fabrics in Auckland when I was up there in November. They were having a 50% off sale and I thought this fabric was very appropriate given the current house plant craze (of which I am not a participant!). I love this top and get lots of comments everytime I wear it. Another easy pattern that came together quickly. I made style C.
This next pattern is honestly the best skirt I have ever made. The pattern instructions are so well written and the skirt fits me perfectly. I loved it so much I made 2 of them! It is the Three Pleat Skirt pattern by the Assembly Line and I urge you to give this one a go. The first one I made in an outrageously loud (for me) canvas fabric I got from Spotlight and I got so many comments when I wore it to work for the first time.
I channeled my Scottish Heritage for the second one with this gorgeous purple and grey wool tartan that I got a sample of when I was looking for some fabric to make a coat and immediately knew I had to make a skirt out of it.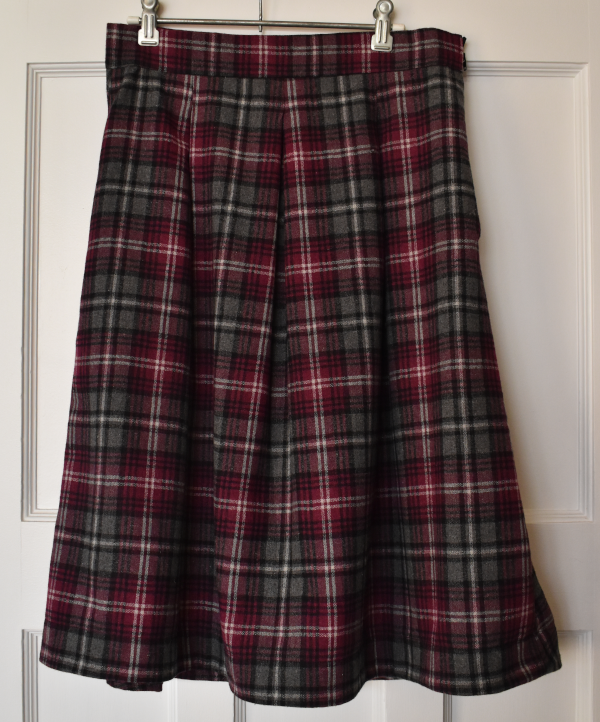 And last but definately not least, another pattern that I loved and have made 2 so far with another one waiting in the wings, the Esme Tunic from Lotta Jansdotters book Everyday Style.
The first one I made with some more Monstera linen that I got from Drapers on the same trip as the other Monstera fabric. This one was a bit short for my liking but fine to wear with tights.
The second one is made from some cotton fabric I got from Spotlight from the same range as the loud three piece skirt fabric. I made this one slightly longer.
It's currently Me Made May so stay tuned for my most ambitious make yet………..