Continuing on with my flavoured bread experiment, I have made 2 versions of this bread and they were both equally as good. The first one had one lime and the second one had some wholemeal flour and more lime. Recipes for both versions below.
Version 1
3 cups flour
1 1/2 teaspoons salt
1 teaspoon instant yeast
Juice and zest of one lime
3 red chillis finely chopped
big pinch ground black pepper
Mix flour, salt and yeast together. Grate the lime zest into the flour mixture and squeeze the lime juice into a measuring jug. Deseed and finely chop chillis and add to the bowl along with the black pepper and mix well to combine
Make up to one and a half cups of water in your measuring jug and add to dry ingredients.  Mix well until you have a sticky dough with no lumps.  Cover and rise for 8 – 10 hours or overnight
Once you are ready to bake the bread, place your dutch oven into your oven and preheat to 230 degrees celcius. While the oven is heating, flour your counter and gently tip the dough out. Try not to handle too much as you want to try and keep as much air in the dough as possible. Using well floured hands, form the dough into a ball and place onto baking paper to rest while your oven comes to temperature.
Once your oven has come to temperature, remove the dutch oven and place the bread, still on the paper, inside. I spritz the top of my bread with some water to create steam then pop the lid back on and return to the oven for 40 mins until the loaf is puffed and has risen nicely. Remove the lid from the pot and cook for a further 10 – 15 mins until the top is crusty and golden.
Carefully remove the dutch oven from the oven and let it cool for a bit until you can handle the bread then remove the paper and transfer to a wire rack to cool completely.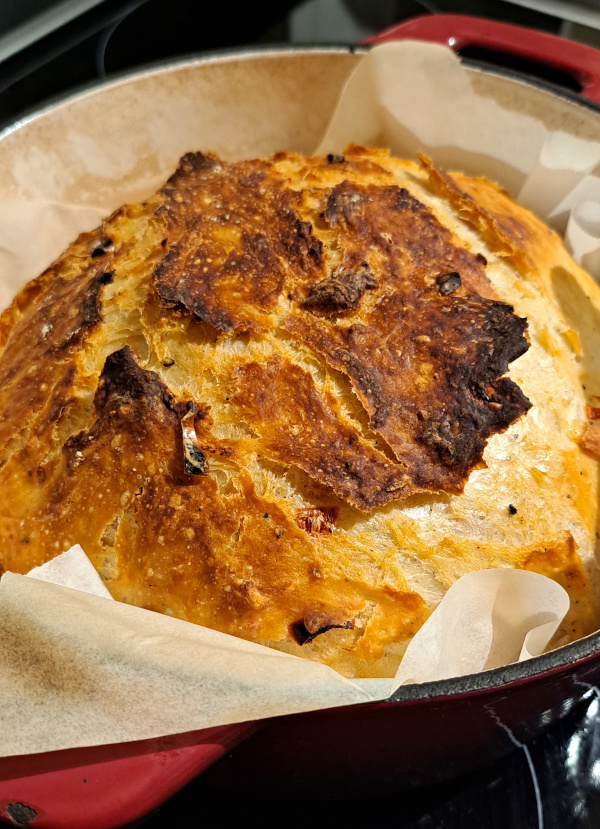 Version 2
2 cups white flour
1 cup wholemeal flour
juice and zest of 2 limes
1 red chilli finely chopped
2 teaspoons aleppo pepper (I buy mine from Moore Wilsons)
big pinch of ground black pepper
Follow instructions for version 1 as above to make