I have quite a nice wee stash of yarn.  As all knitters and crocheters will have somewhere in their house.  Mine is quite small but I know of stashes that take up entire rooms.
This year I have pledged to bust my stash, starting with this giant Granny Square blanket.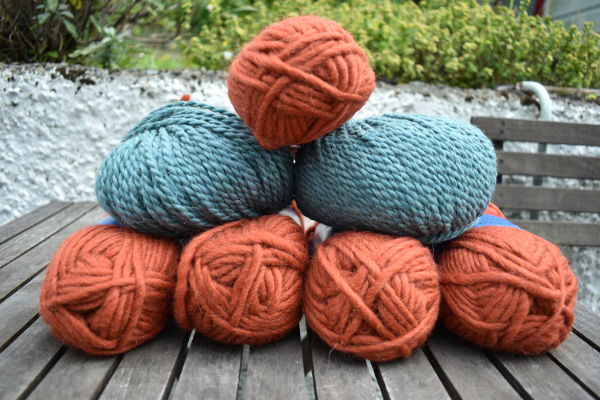 The rust coloured yarn was purchased to knit a chunky jersey.  I got bored with that and could have given it to my mother in law to finish but decided to make a granny square jacket instead.  I didn't get very far with that either so this particular yarn has been in my stash for a while.
The green is from a jersey that I got my mother in law to knit for me but somehow when I was ordering the wool on line, I grossly over estimated the quantity required by more than double!  Rather than have another jersey the same, I thought I could use it to make a blanket.
Both of the yarns are super chunky so three round granny squares didn't take long to make up and the blanket came together really quickly.
I ended up with heaps of green left over so did a nice deep border to use it up.
I'm very pleased with the results, it is very heavy and super warm and has found a permanent home on the back of the couch, at least for the winter anyway.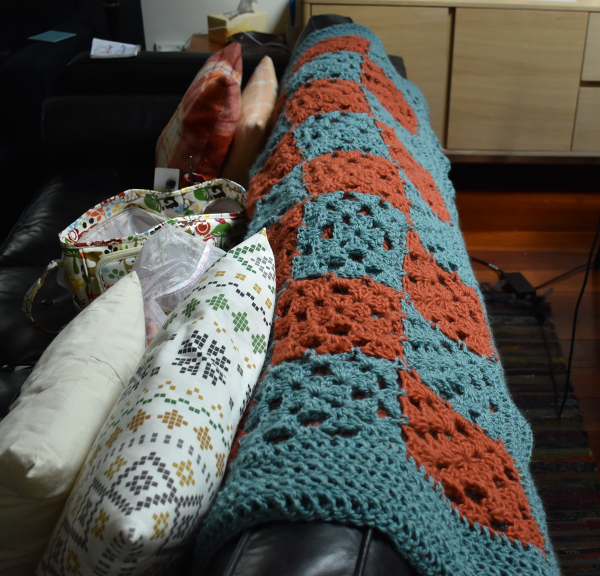 The details:
The rust coloured yarn is Texas in shade Nasturtium from Skeinz 70% Wool and 30% Alpaca
The green is Drops Andes Mix in colour 7130 Sea Green mix from Wool Warehouse 65% Wool and 35% Alpaca
Crocheted using a 12mm hook with 3 rounds per Granny Square.  I ended up with 48 squares and then did a nice deep border to use up the remainder of the green that I had left over.
Stash partially busted, more to come!