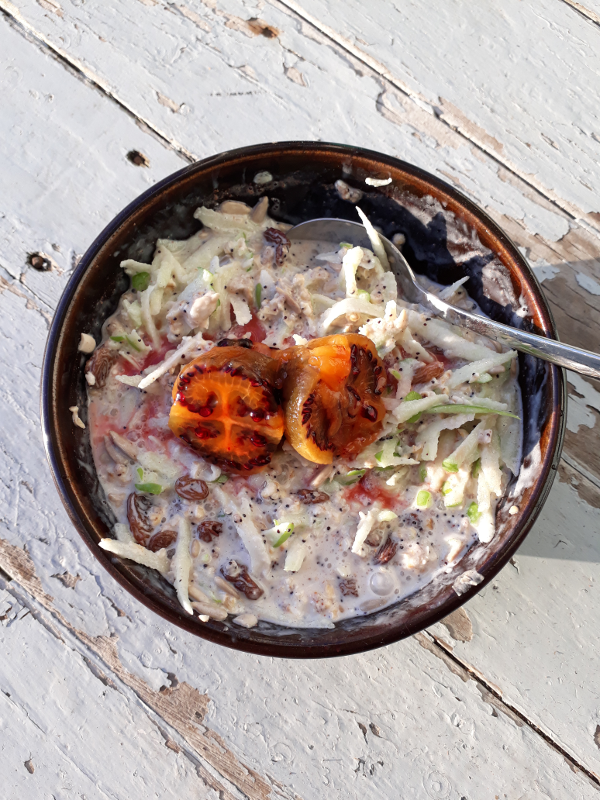 I felt like overnight oats for breakfast this morning so last night I dug out my book full of notes from when I was experimenting with bircher muesli recipes and found another recipe to make.  I had a good laugh over some of the things I had written and the flavour combinations I had tried but a few of them have ticks next to them so they must have been good.  I will road test them again as it has been about a year since I last experimented and I will post the recipes that make the cut here.
This nutmeg and apple one is deliciously autumnal.  Serves 1 for a tasty nutritious breakfast
4 tbsp rolled oats (the quick cook ones)
1 tsp chia seeds
1 tsp poppy seeds
1/2 tsp nutmeg
2 tbsp sunflower seeds
2 tbsp raisins
1 tsp honey
1 tsp vanilla
3/4 cup of coconut milk (or milk of choice)
1 small apple, grated
Mix the first 8 ingredients in a bowl or jar.
Add the coconut milk and mix well to combine.  Don't worry if it looks like too much milk, it will be absorbed overnight.  Put it in the fridge for the flavours to meld and become awesome.
In the morning, remove from the fridge and grate the apple into the oats mixture and mix well to combine.  Add extra fruit and yoghurt if the mood takes you.  I added fresh tamarillos which are in season again.  I got a couple at the Farmers Market this morning.  Enjoy!