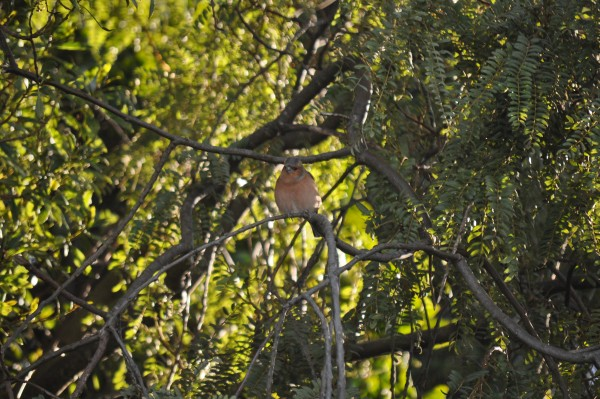 Since we have been in lockdown we have noticed more birds around.  I don't know whether it is because we are at home all day so we are noticing them more or if there has been an actual increase but we are getting hours of amusement out of watching their backyard antics.  
I brought a pinecone covered in birdseed at the Thorndon Fair last November and it had been sitting in the fridge all summer so I pulled that out and we hung it in the fig tree.  The birds devoured most of it on the first day so we refilled it using chefade mixed with birdseed and they loved that as well.   We had Blackbirds, Silvereyes, Sparrows and Starlings feasting on it.
While we were out on a walk we found a big stick with lots of pine cones stuck to it so we brought it home and filled the pinecones up with seeds and hung it from the tree.  
We started to see lots of other types of birds so hubby made bird feeder prototype # 3 using bits we had round the house.  The finches were the first ones to figure it out, closely followed by the sparrows.  We saw Chaffinches, Golden Finches and Green Finches
Hubby also made a nectar feeder and we were thrilled when Tui's started to come down and feed on it several times a day.  They hang out in the fig tree and sing their heads off.  It is a joy to listen to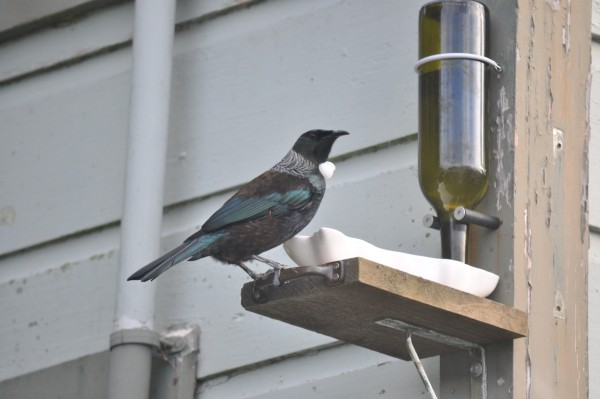 We also decided to leave the rest of the figs to the birds and they have been going to town on what is left.  We have even seen the Tuis eating the figs but the Silvereyes and the Starlings are particularly partial to them
Hopefully as we move closer to normal again the birds hang around!
Thanks to hubby for the photos